Cabrera Morris was born in Havana, Cuba as the daughter of the presidents of the heavy equipment firm Massey-Ferguson. It isn't surprising she loves business and politics, she has been involved directly or indirectly since she was a child. One of the most direct effects of political change in her life came when her family fled Cuba to escape Castro's communist regime. After fleeing Cuba, her family spent time in Madrid, Spain and eventually settled in Glendale, California. During her time in Glendale, Morris learned English as her second language, and fell in love with democracy, Ronald Reagan and the United States.
Cabrera Morris' career started in banking and finance, with an eventual move to Orlando, FL in 1979 where she remained in banking for a short time. During her time in local banking she discovered her joy for public service and eventually was given the opportunity to become the first Hispanic female administrator with the Orange County Public School System. During her time in this role she was involved with planning and research as it relates to growth management within the school district. Post this position she served as the Assistant to the Chairman of Orange County, in the capacity of Assistant for Community Affairs.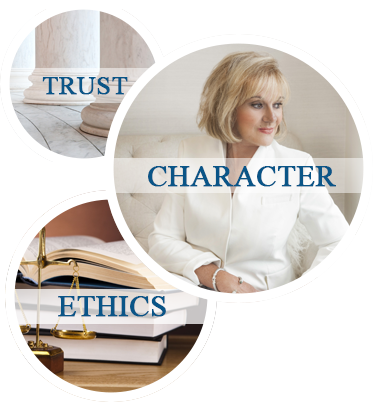 In 1993. Bertica Cabrera-Morris founded a consulting firm specializing in strategic marketing, public relations, media relations, government liaison, lobbying and contract negotiations. Ms. Cabrera represents, counsels and assists corporations in the pursuit of new business opportunities. With experience and contacts in the both the public and private sectors, Ms. Cabrera has a strong background in strategic marketing and planning, new business and market development, a specialized knowledge of team selection and an uncanny skill in determining win criteria and positioning.
She has canted extensive community recognition in varied facets of the business, political ad civic communities. Prior to founding her firm. Ms. Cabrera served as Assistant for Community Affairs and Public Relations for Linda Chapin, Orange County Chairman. Earlier, she worked with the Orange County School Board in Planning, school site selection and governmental affairs.
She is on numerous boards, and is deeply involved in her community. Some of her highlights are as follows:
Immediate Past Chairman of the Valencia College Board of Trustees, as appointed by former Governor Jeb Bush, then re-appointed by Governors' Crist and Scott.
Cabrera Morris also Serves on the Financial committee of the prestigious Republican Governors Association and served as Senior Advisor to the National campaign for Mitt Romney for President.
Chairman of the Marco Rubio for Senate campaign in the very important central Florida I-4 corridor. Morris also served in Senator Rubio's Finance team and was a senior advisor for his campaign.
Appointed to serve by Governor Jeb Bush of Florida, to the Central Florida Transit Authority (LYNX).
Served on Board of Directors for World Cup Soccer 1994, the City of Orlando Sister Cities Committee and the Arts Council for Central Florida.
Commissioner to The Florida Commission on the Status of Women, appointed by then Speaker of the House, Marco Rubio.
When you don't find Morris driving business decisions, or doing whatever she can to make change for her community, state and country you will find her with her family. She has been married to her husband, Brian Morris for over 5 presidential campaigns and they have 5 grown children. Needless to say, Thanksgiving at the Morris house is not a quiet event! If you want an invite, let us know.