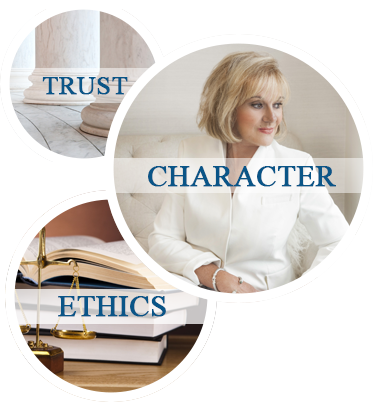 As the founder of BCM Consulting, Bertica Cabrera Morris is a masterful negotiator, expert strategist and highly experienced business and government leader.  Above the idea of business tactics, Morris understands and executes the profound value of true friendship, trust and long standing business relationships.
Cabrera Morris was born in Havana, Cuba as the daughter of the presidents of the heavy equipment firm Massey-Ferguson.  It isn't surprising she loves business and politics, she has been involved directly or indirectly since she was a child.  One of the most direct effects of political change in her life came when her family fled Cuba to escape Castro's communist regime.  After fleeing Cuba, her family spent time in Madrid, Spain and eventually settled in Glendale, California.  During her time in Glendale, Morris learned English as her second language, and fell in love with democracy, Ronald Reagan and the United States.
Cabrera Morris' career started in banking and finance, with an eventual move to Orlando, FL in 1979 where she remained in banking for a short time.  During her time in local banking she discovered her joy for public service and eventually was given the opportunity to become the first Hispanic female administrator with the Orange County Public School System.  During her time in this role she was involved with planning and research as it relates to growth management within the school district.  Post this position she served as the Assistant to the Chairman of Orange County, in the capacity of Assistant for Community Affairs.
Cabrera Morris founded BCM Consulting in 1993 and has served many clients since its inception.
When you don't find Morris driving business decisions, or doing whatever she can to make change for her community, state and country you will find her with her family.  She has been married to her husband, Brian Morris for over 5 presidential campaigns and they have 5 grown children. Needless to say, Thanksgiving at the Morris house is not a quiet event!  If you want an invite, let us know.
Read more about Bertica Cabrera Morris's Community Accomplishments